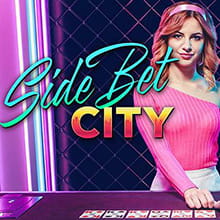 How to Play Side Bet City Live Casino
Ever came across Side Bet City in live casinos? Wondering what it is? Unlike all the standard blackjack and roulette live games, this game focuses entirely on side bets which you'll find in poker variants such as Texas Hold'em or Ultimate Texas Hold'em.
India Bonus
Play Now
Side Bet City Game Introduction
Ever came across Side Bet City in live casinos? Wondering what it is? Unlike all the standard blackjack and roulette live games, this one offers something entirely different. Developed by Evolution Gaming, it brings wild neon-bright 1980s vibes to an exciting poker table. Released in 2019, this game focuses entirely on side bets which you'll find in poker variants such as Texas Hold'em or Ultimate Texas Hold'em.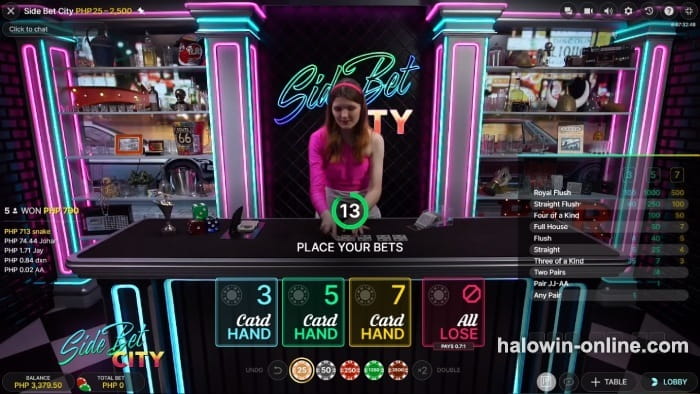 For those unaware, side bets are extra bets that you place alongside the main ones. They don't necessarily cover the events of the game such as a win or loss. They pay on certain hand ranks or a different event that doesn't influence the game's outcome. All side bets have one thing in common - they pay big money. They've become the centerpiece in Side Bet City Live, but you won't get much out of them if you play without a Side Bet City strategy.
The good news is that in this guide we'll show you how to play Side Bet City and check which strategy works best for this fun game.
What is Side Bet City?
Evolution Gaming is known for its visually pleasing and unique live dealer games. Side Bet City certainly fits that narrative, but this time with a bit of 80s vibes weaved into the mix. As the name explains, it runs entirely on side bets, so there's no main poker hand to distract you. You simply bet on the best 3- or 5-card poker hands. If a winning hand is formed and you placed the bet on the right one, you win. Otherwise, you lose.
What makes this game so exciting is that you don't need to be a poker master to play it. While it's ultimately based on Texas Hold'em, you're not building the poker hand yourself. You're simply betting on the outcome of the deal and the round. It doesn't require a lot of poker knowledge, although knowing the poker hand rankings is welcome.
How to Play Side Bet City Live
Side Bet City Live is played with one standard deck of 52 cards. It is shuffled every time a round is completed. You get four betting options:
3-card hand - the result is determined on the first 3 cards dealt from the deck
5-card hand - the result is determined from the first 5 cards dealt
7-card hand - results determined by the first 7 cards dealt
All Lose - you win your bet if there's no winning hand after the deal
Right beneath the betting options, you have the chips. Pick the chip that suits your playing style the most - you have plenty of options. You can place your chips on one bet, or place several on others. The layout is pretty easy to follow. If you don't know the rankings, don't worry - the game will list them on the right side as soon as it starts.
That's how to play Side Bet City. You don't need a lot of previous knowledge, but if you already know how to play poker, things will be much smoother.
Side Bet City Gameplay
As mentioned earlier, you can bet on one or more hands before the round begins. Each betting session lasts for 15 seconds, so you better be fast. The minimum bets range from $0.50 per round all the way up to $250 for high rollers.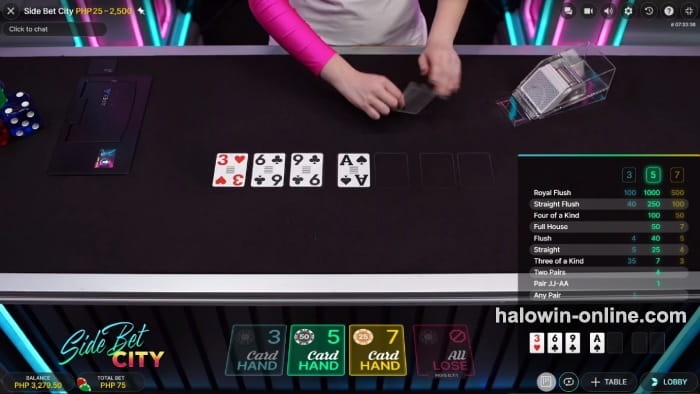 Once the game is underway, the first three cards determine any winners. The dealer will continue dealing with two more cards, then another two more. These determine if there's a five- or seven-card hand completed. Betting on All Lose means predicting that there's no winning hand in that round.
The RTP of the game obviously depends on its bets. It's the highest for the 3-card EsballPH HaloWin bet and the lowest for a 7-card hand.
3-card hand: 96.69%
5-card hand: 95.21%
7-card hand: 94.34%
All Lose: 96.29%
The results of each round will be easily seen on the screen. Winning hands will be highlighted so you can easily track them. No winners are announced when you lose. Side Bet City's user interface is pretty user-friendly and adapts well to any device, including desktop PCs and mobile devices.
Winning Side Bet City Live Hands
As you probably know, there are plenty of card hands you can complete in poker. Royal Flush is the strongest hand, but you can win even if there's a pair in Side Bet City. Let's take a look at the hands that can be completed in the game.
Pair: two cards of the same suit/value
Two Pairs: two sets of pairs - this bet is only available from the 5th card onward
Three of a kind: three cards of the same rank or value
Straight: a hand made up of cards in sequential order
Flush: a hand consisting of same-suit cards
Full House: This hand consists of a pair and three of a kind
Four of a kind: same number of cards from each suit
Straight flush: consecutive cards from the same suit
Royal flush: a string of cards from the same suit starting with an Ace, then King, Queen, Jack, and Ten
Side Bet City Strategy
If you're wondering what's the best approach to play the game, it's with a Side Bet City strategy. Granted, this is a game of luck, but since it features poker elements, it's best to play with a strategy. There is no great strategy to work out, but you need to learn how to play Side Bet City responsibly if you want to be successful. In short, you need to figure out the most comfortable bet size for your budget in order to not get too ahead of yourself and hurt your chances.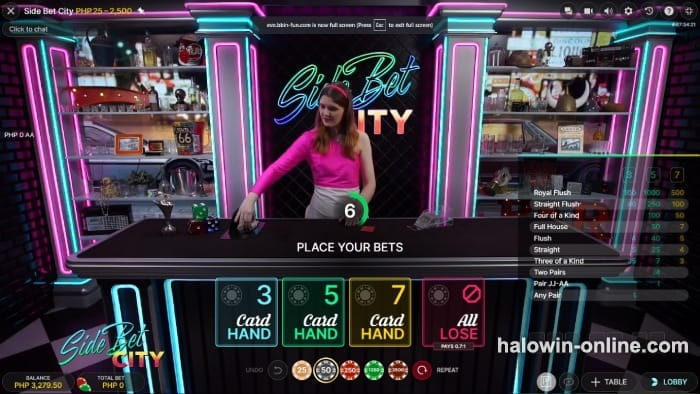 A good and balanced Side Bet City strategy is to go with a reasonable bet on five-card hands rather than three or seven. If you want to win often, we'd recommend choosing 5-card hands rather than any of the other three options.
The most unprofitable strategy is to bet on 7-card hands. This EsballPH HaloWin bet has the lowest RTP so it's not the perfect pick. When it comes to betting on the All Lose bet, the payout is 0.7:1. Think of it as an Insurance bet. While Insurance is not the best idea in live blackjack games, you can use this one to bet on 3-card hands and protect your bet with All Lose. Betting on All Lose all the time won't bring you much of a profit, so it works best when used as a safety net.
The previous sign up free ₱100 + registration bonus ₱88 casino activity has ended, but in order to continue to take care of the majority of EsballPH Halowin loyal players.
Now! EsballPH Halowin are once again launching the Register Free ₱100 Sign Up Bonus Sharing FB monthly FREE ₱38 Casino Promotion.
You can also click to enter the Online Casino Bonus & Promo introduction, which provides more diverse casino bonuses.