The boxing news introduction comes from American lightweight boxer Devin Haney, who will become the undisputed lightweight champion of the world in June 2022. EsballPH HaloWin Bet details his journey to the Undisputed champion for you.
First Deposit 100% Bonus Cashback
Devon Haney's Childhood
Devon Haney was introduced to boxing at a young age in Las Vegas, and quickly showed a natural talent for the sport. His father, Bill Haney, played a key role in his development as a boxer, homeschooling him and taking his training seriously.
Devon Haney made his professional debut at the age of 17 and has won several regional titles on his way to winning the WBC interim lightweight title and becoming the undisputed champion. He has climbed to the top of almost every kind of lightweight boxer rankings. He is ranked as the best active lightweight by WBO, BoxRec, TBRB, and many others. In addition to his success in the ring, Haney is also a star of the digital age, with a large following on social media and his own promotional company.
From being a young teenager, uploading his sparring videos on youtube, to becoming the undisputed lightweight champion of the world, Devin Haney has had quite a journey, and by the looks of it, he is just getting started.
Devin Haney's story starts in Oakland, California, where he grew up as a child. As a young kid, he was exposed to violence and poverty on a daily basis. He had a knack for getting into fights, and to avoid all the violence associated with Oakland, Haney and his father moved to Las Vegas.
This is where Haney found his passion for boxing. The first time Haney put on his boxing gloves, and stepped into a ring was when he was seven years old. The kid was an absolute natural. While talking about his start in boxing, Devin Haney said that he sparred with another kid on his first day in the boxing ring, and knocked him down. From that day onward, Haney started to box, and as they say, the rest is history.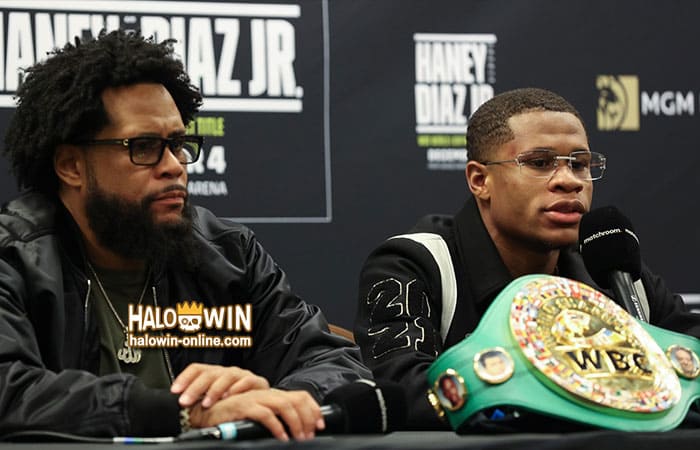 Devin Haney's Father, Friend, Coach and Mentor
Devin Haney's father, Bill Haney has been a key figure in his journey to the top. Though their relationship might have been a little strained in the early years of Devin's life, after they found boxing, they have become an incredible father-son duo.
Bill Haney chose to homeschool Devin, and took his boxing training very seriously. He would take Devin to different gyms, to spar with high level boxers. He also talked to many coaches, who worked with Devin, and helped him hone his natural talent for the sport.
According to Devin, even though his father did not have any experience in boxing before, he is an amazing trainer. He said that as he worked with some of the best boxing coaches in the world his father learned from them as well. However, Bill Haney is much more than a father and trainer to Devin, above all, he is a friend, and a person Devin can talk to about anything. According to Bill Haney, this is what sets him and Devin apart from every other father-son duo in boxing.
Rise to the Top
Devin Haney started his professional career very young when he was only 17. Not many commissions in the US would allow a boxer to compete in the professional ranks, so Devin Haney made his professional debut in Tijuana, Mexico.
Devin Haney won his first two fights via first-round knockouts. After winning four fights in a row, he got started fighting in the US where he continued his winning ways. In his 14th fight, Haney won the WBC Youth lightweight title.
Over his next few fights, he won multiple regional titles and became the unified WBA and WBC international champion, holding the WBO intercontinental lightweight title as well. All of this success led to Devin Haney's first shot at a world title. He fought Zaur Abdullaev for the vacant WBC interim lightweight title and won. He was later promoted to the regular champion and defended his title four times against high-level opponents like Jorge Linares and Joseph Diaz.
This year has been amazon for Devin Haney. In June, he got to fight George Kambosos Jr., who held the unified WBA (Super), IBF, WBO, and The Ring lightweight titles at the time. Haney outclassed the champion and easily won the fight becoming the undisputed world champion. Later this year, he had a rematch against George Kambosos Jr. Devin Haney won again, showing the world that he is a legit world champion, here to make waves in the world of boxing.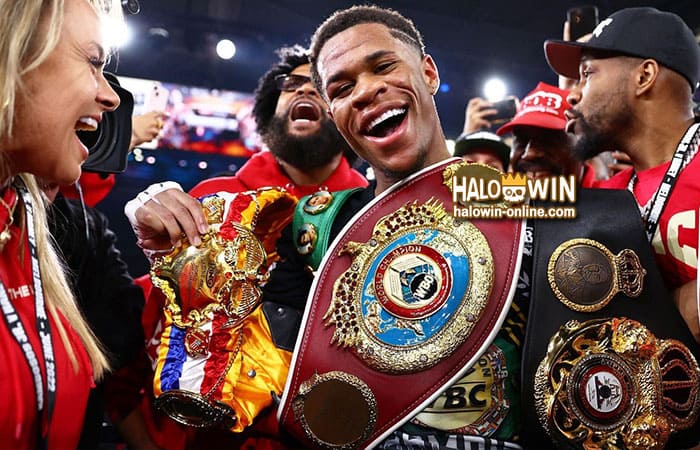 A Boxing Star for the Digital Age
Devin Haney is a rising star in the world of boxing, however, his success goes beyond the ring. He is truly a boxing star for the digital age. Instead of looking to sight with major promoters, Haney set up his own promotional company at 19. He built a massive following on social media and uploaded his sparring videos to youtube. Haney said that to monetize his following, he treated his boxing career like a media business.
Haney's father was a major help in his journey. Bill Haney once owned a recording company, and he compared his son to an independent artist, working with major labels. Now, Haney has a massive following on youtube and over 2 million followers on Instagram.
He is one of the most popular young boxers in the world and associates himself with a lot of big names in boxing and showbiz. However, unlike others in the sport these days, Haney is not a youtube star and influencer who knows how to box. He is a world champion boxer, who is internet savvy, and knows how to use his social media presence to his advantage.
Is Devin Haney the next Floyd Mayweather?
Many fans and analysts have compared Devin Haney to Floyd Mayweather. His incredible fighting style and defensive genius have even earned him the nickname "Mini-Mayweather".
The two fighters have developed a close relationship in recent years, with Mayweather serving as a mentor and advisor to Haney.
Mayweather first took notice of Haney in 2017, when Haney was just 19 years old. Impressed by Haney's skill and potential, Mayweather offered to train Haney and help him advance his career. Honey also showcases a similar style to Floyd Mayweather, he is a defensive genius, who has fast and powerful hands.
Moreover, Honey understands the business side of boxing, is extremely confident and knows how to play the game outside the ring. Therefore, it would be far-fetched if Devin Haney becomes the next biggest star of boxing, and carries the mantle of Floyd Mayweather.
What's next for Devin Haney?
With his incredible talent for boxing and growing popularity, the sky's the limit for Devin Haney. The undisputed lightweight title is just the beginning, and in the coming years, we will probably see Devin Haney fight against some of the biggest stars in boxing today.
Haney has already expressed a desire to fight boxers like Ryan Garcia, Vasyl Lomachenko, Gervonta Davis, and Teofemo Lopez. These potential matches would definitely bring Haney a lot of Fame and set him up for big fights in other divisions as well.
Devin Haney is just 23 years old, and he hasn't even reached his prime yet. By the looks of it, Devin Haney might just be the next face of boxing, and he has a lot left to show the world.
The previous sign up free ₱100 + registration bonus ₱88 casino activity has ended, but in order to continue to take care of the majority of EsballPH Halowin loyal players.
Now! EsballPH Halowin are once again launching the Register Free ₱100 Sign Up Bonus Sharing FB monthly FREE ₱38 Casino Promotion.
You can also click to enter the Online Casino Bonus & Promo introduction, which provides more diverse casino bonuses.