Boxing News: Tyson Fury Gears Up for a Thrilling Boxing Showdown
2023/06/01
Play Now
India Bonus
Joe Rogan's recent discussion on 'The Joe Rogan Experience' about a potential fight between Jon Jones and Tyson Fury has sparked speculation and excitement.
However, Fury expressed his anger and insulted Rogan for assuming such a scenario. Jones, on the other hand, responded through Twitter, extending an invitation for a fight. Realistically, it is unlikely that Dana White would agree to this matchup, especially while Jones is still under contract.
Joe Jones supporting latest boxing Fight Jones vs. Fury in the Ring:
Tyson Fury would be reluctant to step into the octagon against Jones, who is regarded as the best in the UFC community after his impressive Heavyweight Championship fight.
Fury's recent canceled bout against Oleksandr Usyk raises questions about whether he prioritizes money over his legacy. It's intriguing to consider if Fury would be tempted to enter the octagon for a $50 million offer from Dana White to fight Jon Jones.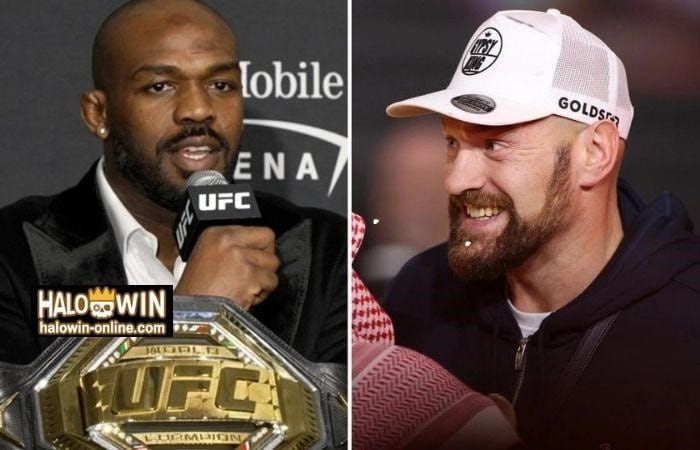 Tyson Fury's Response to Jon Jones for a Boxing Match:
Tyson Fury has responded to Jon Jones' challenge by issuing his own challenge but with certain conditions. In a video released on May 18, 2023, Fury criticized Joe Rogan, a UFC color commentator, for suggesting that Jones would defeat Fury in a fight if they were locked in a room together.
In response, Jones challenged Fury to a fight in the UFC's octagon and urged him to contact UFC President Dana White to make it happen. However, Fury took to Instagram to respond to Jones with a counter-challenge of his own. Instead of a fight in the octagon, Fury proposed a boxing match inside the traditional boxing ring.
Fury's Statement:
"I see Jon Jones has piped up," Tyson said. "Jon, you talk about being in a cage, I'm not a cage fighter, mate. I'm a boxer — the best boxer, actually.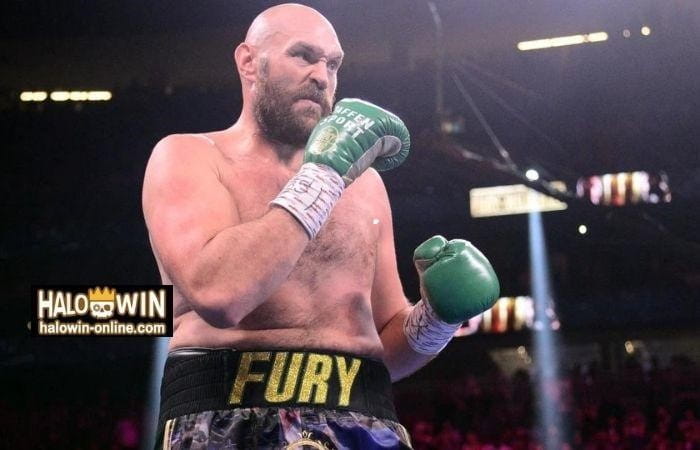 "So if you want to come into a boxing ring and fight me, be my guest. Let me know. You don't have to call anybody else, you call me because it's a boxing fight and I'm the boss in this game."
Jones is expected to defend his newly acquired UFC heavyweight title against Stipe Miocic later this year. On the other hand, Fury currently doesn't have an opponent lined up for a boxing match, but he has expressed interest in potentially facing Francis Ngannou, a former UFC champion who recently joined the Professional Fighters League (PFL).
Fury has left the decision to Jones and acknowledged his achievements in MMA, but also implied that a boxing match against the WBC heavyweight champion wouldn't favor Jones.
Jon Jones's Reply to Tyson Fury on the Latest Boxing Fight Challenge
Jones responded to Fury's remarks on Twitter, highlighting how quickly Fury changed his position regarding the possibility of a cage fight against him. Jones emphasized that Fury had a rapid shift in his stance on the matter. "Yesterday, Tyson says, 'no man born from a mother can beat me', today he says 'Jon can never beat me in a boxing ring,' Jones tweeted from Twitter account. "Yeah I'm glad we got that clarified. You just switched your beat up faster than Travis Barker, impressive."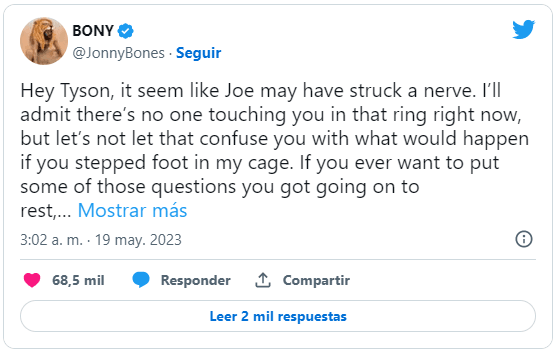 Jones carried on and stated "Hey Tyson, it seems like Joe may have struck a nerve. I'll admit there's no one touching you in that ring right now, but let's not let that confuse you with what would happen if you stepped foot in my cage. If you ever want to put some of those questions you got going on to rest, give Dana a call. I'll help you out." How would a fight between these two be both inside a ring and an octagon?"
In another Boxing news, Fury vs Usyk match:
Boxing fans eagerly anticipated a match between Oleksandr Usyk and Tyson Fury for the undisputed Heavyweight championship.
However, the negotiations between the two fighters fell apart, and the details remain unclear. Both boxers have provided statements with conflicting views, making it difficult to determine who is telling the truth. Fury's camp focused on monetary aspects, while Usyk claimed that Fury was avoiding the fight.
Currently, there is no communication between the teams, and the last negotiation ended poorly. In a recent interview, Usyk expressed his thoughts on the negotiations and boldly stated that Fury is scared of him.
Ultimately, we can only wait and see if a deal can be reached between the two fighters in the second half of 2023.
What Uysk has to say about the Fury vs Usyk Match?
Usyk recently told in an interview, "We're at an impasse. The fight will take place sooner or later. And everything will be decided in the ring. A big man who has very good abilities in boxing and in life, but this big man is very afraid of losing."
Tyson Fury's response to Usyk's comments:
In a recent video, Tyson Fury addressed the halted negotiations and expressed his continued confidence for the fight. While it is commonly believed that Fury would have no difficulty defeating Usyk, considering Usyk's impressive performance against Anthony Joshua, there is a possibility that he could pose a challenge to Fury.
Fury said in a video, "I don't think anybody's scared of anybody in a boxing match. The fight's gotta happen, it's gotta happen this year. I just think it's an easy job. I'll hit him, he'll hit the floor, then I'll go out and get drunk in the town centre."
The world is highly anticipating both matches because of the skills and strengths these boxers possess. However, nothing is confirmed till now.