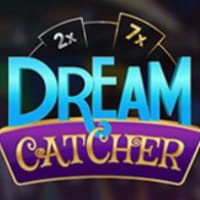 Dream Catcher
One of the most popular was Crazy Time Live, a unique Money Wheel mechanic that delivered the ultimate fun, as same as the dream catcher. But once you tried the Dream Catcher, you will be amazed.
India Bonus
Play Now
Dream Catcher Game Introduction
It's fair to say that live casino games have completely revolutionized the online gambling market before there was only roulette, blackjack, and baccarat to play in the beginning. Improved technology brought many new live games to every Evolution Casino. One of the first live game shows the industry received was Crazy Time Live, a unique game of multipliers and Money Wheel mechanics that delivered the ultimate fun. It's a great game, but if you're looking for an even better alternative, Dream Catcher will do the trick just fine, EsballPH HaloWin Casino also included Dream Catcher strategy in this article.

What Is Dream Catcher
Available in any Evolution casino, Dream Catcher is a unique live show game played on a vertical Money Wheel. Do you know all those Money Wheel shows on TV? Well, this one's pretty similar, but in a live casino environment. Available in EsballPH HaloWin casino right now, it takes the fun and engagement of live dealer titles to a whole new level.
Aimed at slot players, it has simple mechanics and has been created by using a precise bespoke wheel. Built for Evolution Gaming exclusively by TCSJOHNHUXLEY, the game is streamed from a state-of-the-art studio. It's a fantastic live game show that we love besides Crazy Time Live. The light and sound effects create an even more immersive experience, allowing players to enjoy the game on any screen via several dynamic camera angles.
To play live casino Dream Catcher, you will need to fund your account first. That's easily done in EsballPH HaloWin casino, so your money should be up and about almost instantly. Once you have your deposit ready, you can open the popular game show and have a blast spinning the wheel.
Oh, and it's a particularly lucrative game too, with up to x7 multipliers offering super-sized payouts in any Evolution casino.
How to Play Dream Catcher in an Evolution Casino
Playing the game might look a bit complicated at firsts, but it's actually easy. As an alternative to Crazy Time Live, you'll find it pretty similar. It is one of the simplest games you can play in a live Evolution casino. What you need to do is bet on a number – you can pick any from the list and they pay to correspond to the number in question.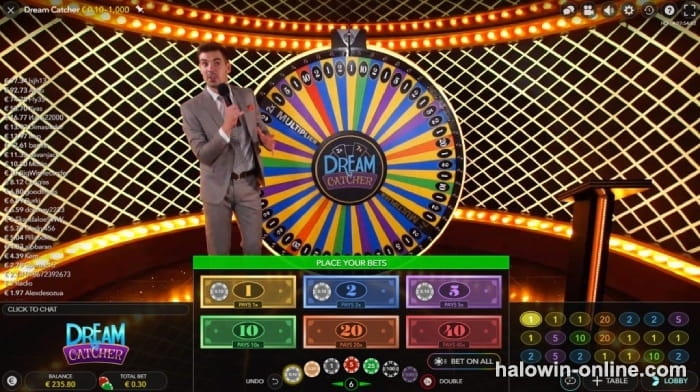 For example, if you bet on 1, it pays 1:1. If you bet on 2, it pays 2:1, and so on. The cool thing is that you get x2 and x7 multiplier segments on the wheel, giving you a chance to win much bigger prizes in the EsballPH HaloWin casino.
The mechanics of it are simple and you'll learn them after just a spin or two. If you played Crazy Time Live before, you should have no trouble handling this game too.
Is Dream Catcher Available for Free
No, it isn't. In that regard, it isn't any different than any other live casino game. This game show isn't available in RNG demos, so you can't practice. But, the learning curve is pretty simple, so you'll get the hang of it after a spin or two in an Evolution casino.
With the Dream Catcher strategy we have for you below, you should optimize your wins and minimize losses.
Dream Catcher Tips and Tricks
Before we go into the tips and tricks for Dream Catcher Live, let's be clear on one thing. This is a chance-based game that purely relies on luck. You don't have any control over the spin, just like on Crazy Time Live or any roulette variant. Still, it's best to play it with some kind of strategy in EsballPH HaloWin casino. Additionally, make sure to read these tips and tricks that will help you when you play live casino games in general.
Keep an Eye on Your Bankroll
First things first – when you play live casino games, you should always keep an eye on your bankroll. It's easy to get carried away and chase your losses which will only result in a string of new losses. Always set a daily limit (or hourly, however you want) and stick to your budget when you play in an Evolution casino.
Settle on a Bet to Play Responsibly
It's not just enough to keep an eye on your bankroll. To be successful, you must play with a strategy and responsibly. Responsible gambling is a concept many casinos these days practice, so whether you're playing Crazy Time Live or Dream Catcher, you should stick to it. Consider the bet sizes. They range from 10c to $5,000 per spin, so settle on the one that suits your bankroll the best.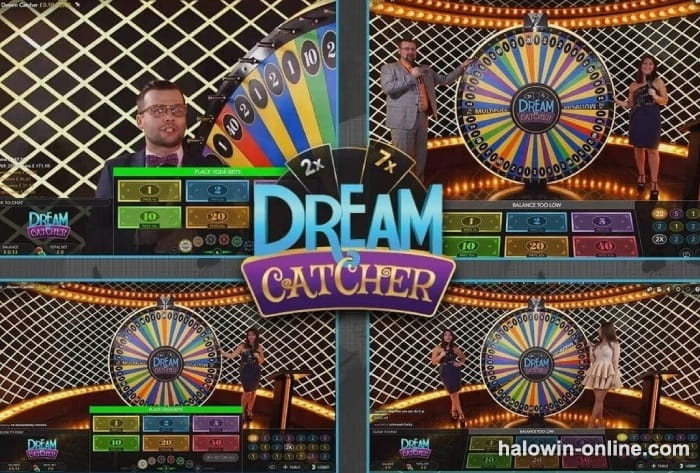 Dream Catcher Strategy
Here is a little sample of the Dream Catchers strategy you can use.
Dream Catcher strategy: Safe Spread
Since the numbers 1 and 2 cover more spread on the wheel (38 out of 54 segments), they are the safest bet you can play. Of course, their payout is drastically smaller than the higher numbers, but this is the safest strategy you can apply for this game.
Dream Catcher strategy: Go Big or Go Home
Some players like to risk it all when it comes to chance-based games. The Go Big or Go Home strategy is more suited to high rollers as it goes for the biggest numbers. If you're lucky, you'll go big, but if you're not, you'll go home – lose. This strategy can be particularly lucrative if you hit, for example, the number 40 with an x7 multiplier. It's a risky approach, but one that can pay great.
Dream Catcher strategy: Multiplier or Bust
This strategy allows you to target the most rewarding multiplier segments. This means betting only on numbers 5, 10, 20, and 40. They cover 25% of the wheel, so your chances are middling at best, but if you hit them, the multipliers will make it worth your while.
The previous sign up free ₱100 + registration bonus ₱88 casino activity has ended, but in order to continue to take care of the majority of EsballPH Halowin loyal players.
Now! EsballPH Halowin are once again launching the Register Free ₱100 Sign Up Bonus Sharing FB monthly FREE ₱38 Casino Promotion.
You can also click to enter the Online Casino Bonus & Promo introduction, which provides more diverse casino bonuses.