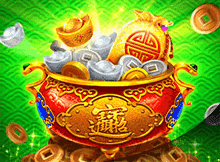 Treasure Pot Puzzle Fortune Slots Match 3 Game
Fortune game the Treasure Pot is a puzzle slot game, As long as 5 identical objects are adjacent to each other to eliminate the score, after the objects are continuously eliminated, the opportunity to obtain additional bonus points and hundred matching symbols to enhance the chances of winning the score.
India Bonus
Play Now
Free Spins
Treasure Pot Puzzle Game Introduction
How to Play Treasure Pot Puzzle Match 3 Game
This game Treasure Pot Puzzle will randomly spew out "Bonus Points" and "Hundred Match Symbols" on the reels, which can be eliminated to get the corresponding rewards.If any 1 scatter symbol appears, you will get 6 free games. If reach the free game condition again, you can add 3 more games.
Treasure Pot Puzzle Game Rule Feature
This game has 6 x 6 area. 5 or more identical symbols which are next to each other can be cleared and get a corresponding score. At the same time, the system will automatically generate new symbols until no winning combination.
Winning points: bet level*odds
When the symbols are cleared, the winning combination will fly into the Treasure Pot.
Have a chance to trigger the Treasure Pot when the symbols are cleared.
The Treasure Pot randomly spouts out numbers and the Wild Symbols.
The spouted number will cover on the money bag or ingot.
The spouted Wild Symbol will randomly replace a symbol.
If the winning combination includes numbers, the player can not only get the prize from the combination but also can get the bonus from the numbers.
The Wild Symbol doesn't replace the symbol which has an attached number.
Treasure Pot Puzzle Odds
Scatter Symbol
When 1 Scatter Symbols appear, 6 free spins (Free Game) will be triggered.
When 1 Scatter Symbols appear during the Free Game, get another 3 free spins.
Wild Symbol
The Wild Symbol can stand of for any other symbols and complete the winning combinations with the other symbols, but excluding the Scatter Symbol.
Following symbols can be replaced.

Jackpot Symbol
Grand
There are 4 Jackpots: one of the Jackpots will be given out randomly after the game stop.
Major
Minor
Mini
Candy Party Match 3 Game Round
Numbers of Symbol
Consecutive 5
50
15
15
8
8
8
Consecutive 6
100
50
40
25
25
25
Consecutive 7
200
100
100
60
60
60
Consecutive 8
500
300
300
250
250
250
Consecutive 9
700
500
500
400
400
300
Consecutive 10
1200
700
700
600
500
500
Consecutive 11
1600
1200
1000
700
700
600
Consecutive 12
2400
1500
1200
1000
900
800
Consecutive 13
5000
3000
2400
1500
1200
1000
Consecutive 14
10000
5000
4000
2400
1600
1500
Consecutive 15
15000
7000
5000
4000
3000
2400
Consecutive 16~36
20000
15000
10000
8000
6000
5000
Treasure Pot Puzzle Game Screen
Candy Party Main Game Screen

Treasure Pot Puzzle Free Game Screen

Try an online slot casino for FREE! Use any of our great Register Welcome Bonus and Deposit Bonus. Just sign up and start playing in EsballPH HaloWin!
The previous sign up free ₱100 + registration bonus ₱88 casino activity has ended, but in order to continue to take care of the majority of EsballPH Halowin loyal players.
Now! EsballPH Halowin are once again launching the Register Free ₱100 Sign Up Bonus Sharing FB monthly FREE ₱38 Casino Promotion.
You can also click to enter the Online Casino Bonus & Promo introduction, which provides more diverse casino bonuses.