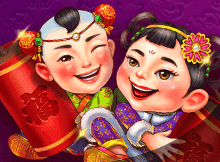 Good Fortune Slot with Gold Games Tricks
Good fortune and endless riches await you in a brand new slots game from Halowin Slot. Step into an enchanted world featuring Chinese-Themed free slot machines with huge bonuses, countless respins, and major jackpots!
India Bonus
Play Now
Good Fortune Game Introduction
Good Fortune the theme and general set-up of the game transports you to a Chinese cultural adventure. Red is the prominent color and is complemented by golden highlights. With a red theme and Chinese ornaments, the 5-reel game takes you on an oriental expedition. In addition to 243 pay lines, players can get free spins from gong scatter symbols.
Halowin Slot has great slot games, including Good Fortune slot that you can play here at Halo Win Online Casino Slot. Try out the demo to learn how to play the game, or simply to have fun. Discover the best Halo Win online casinos. Get the best sign up bonuses and play for the real on 243 paylines/ways to win at this online casino.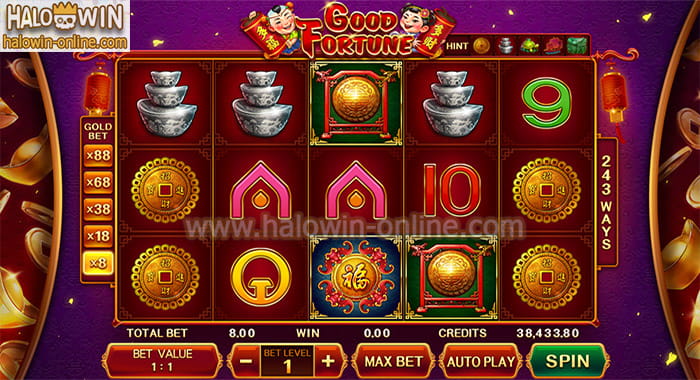 How to Play Good Fortune Slot Game
Good Fortune Slot Game has 243 ways to win and provides a lot of types of bets to players. 5 reels have 243 ways to win. According to the bet points and the symbols given to the corresponding prize when consecutive 3 or more identical symbols appear from left to right on a payline.
​Any 3 or more scatter markers appear, you can get 10 free games. If the free game conditions are met again, 10 more rounds can be added, up to a maximum of 100 rounds. During free games, only high odds objects will appear.
Good Fortune Slot Game Gold Bet
Symbol pictures and odds change with gold bets. The minimum you can wager is 8, while the maximum is 88 for each spin. Once you've set your wager just hit the spin button marked 'Feeling Lucky' and start the game. To increase your chances of winning, you can buy 1 to 5 gold symbols. These symbols along with Fu Bat wilds will unlock jackpots.
| Gold Bet | Patterns |
| --- | --- |
| x8 | |
| x18 | |
| x38 | |
| x68 | |
| x88 | |
Good Fortune Paylines Odds
General Symbol payout: bet level * odds
The Bet level has a total of 11 levels. Each level increases non-equal.
Patterns
Instructions
5 X 50
4 X 10
3 X 5

Good Fortune Slot Scatter Symbol

Consecutive 3, 4 or 5 symbols appear from left to right → 10 free spins (Free Game)
When consecutive 3, 4 or 5 symbols appear from left to right, get 5, 10 or 50 times the bet points.
There will be no A, K, Q, J, 10, 9 during the free game period.
During the free game period,the symbol picture is the same as the symbol picture of the gold bet be chosen before entering free game.
During the Free Game, when consecutive 3 or more symbols appear from left to right, get 10 more free spins. The maximum is 100 free spins.

Good Fortune Slot Wild Symbol

The Wild Symbol can stand of for any other symbols and complete the winning combinations with the other symbols, but excluding the Scatter Symbol.

Following symbols can be replaced; The Wild Symbol appears on the 2nd, 3rd and 4th reels.
Good Fortune Odds
Patterns
Odds
Patterns
Odds
Patterns
Odds
5 X 2888
4 X 188
3 X 18
2 X 8
5 X 2888
4 X 188
3 X 18
2 X 8
5 X 2888
4 X 188
3 X 18
2 X 8
5 X 888
4 X 88
3 X 8
5 X 888
4 X 88
3 X 8
5 X 888
4 X 88
3 X 8
5 X 188
4 X 88
3 X 8
5 X 188
4 X 88
3 X 8
5 X 188
4 X 88
3 X 8
5 X 188
4 X 88
3 X 8
5 X 188
4 X 88
3 X 8
5 X 188
4 X 88
3 X 8
5 X 188
4 X 88
3 X 8
5 X 188
4 X 88
3 X 8
5 X 188
4 X 88
3 X 8
How to Win at Good Fortune Slot Game Tricks
Good Fortune Free Game, as you can see, the secret of this machine is hidden in the bonuses. They offer great bonus. However, in order to trigger them regularly, it is necessary to follow a strategy. This method includes the fact that it is necessary to play the same bet and not to change it. The longer you do not change the bet after the reels spin, the more likely the bonus combinations will appear. As for risky games, they are activated only when you get very small wins. It is dangerous to risk a big bonus. But don't be afraid, I am sure you will succeed in breaking the jackpot.