JDB New Year Slot Game Win 1000X Jackpot Tricks
I-over ang kalendaryo sa estilo na ito sa nakakatuwang New Year slot! Notch 10 Free Spins with Scatters, during which an extra Wild Symbol is added for enhanced wins.
India Bonus
Play Now
Free Spins
New Year Game Introduction
The god of fortune brings a big red envelope! Let you celebrate the New Year every day. It's okay if you didn't get much red envelopes by jdb new year slot game. Just play NEW YEAR, Halo Win have lots to give away! Easily win the 1000X jackpot! Besides stacking wild symbols, NEW YEAR's special features include 1 extra wild symbol every 2nd, 3rd, 4th, and 5th spin, the Big Bonus is yours.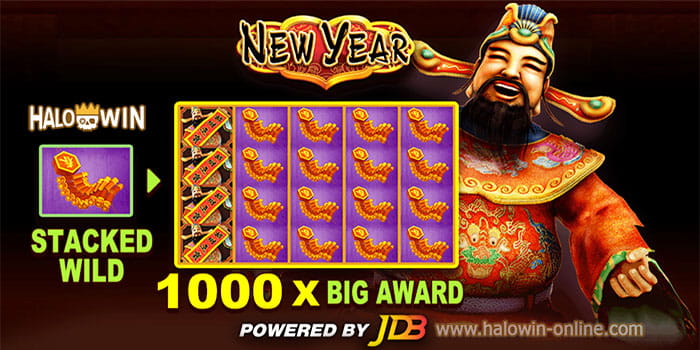 How To Play JDB New Year Slot Game Win 1000X Jackpot Tricks
3 Wild Symbols Appearing anywhere on reels 1, 2 and 3 initiates the free spin bonus with 10 free spins. For each of the first 10 free spins, an extra is added to reels 2,3,4 and 5. Additional 10 free spins may be awarded with 3 during the free spin bonus to a maximum of 20 free spins.
Press spin button to start the free spin bonus and play automatically until all free spins are completed. During free spins the bet x remains the same as the spin that triggered the bonus.
Patterns
Instructions

Wild Symbols

All wins show for 1 credit bet. Credits times the bet and only appears on reels 1, 2 and 3.

Free Spin Bonus

Substitutes for all symbols except. Only appears on reels 2, 3, 4 and 5.
Patterns
Odds
Patterns
Odds
Patterns
Odds
5 X 1000
4 X 200
3 X 50
2 X 10
5 X 750
4 X 200
3 X 40
5 X 500
4 X 100
3 X 10
5 X 400
4 X 60
3 X 10
5 X 300
4 X 60
3 X 10
5 X 200
4 X 40
3 X 5
5 X 200
4 X 40
3 X 5
5 X 200
4 X 35
3 X 5
5 X 100
4 X 25
3 X 5
5 X 100
4 X 25
3 X 5