Jili Glory Tournament Event Details
Round 1:27/09/2022 13:00~04/10/2022 13:00
Round 2:04/10/2022 13:00~11/10/2022 13:00
Round 3:11/10/2022 13:00~18/10/2022 13:00
Round 4:18/10/2022 13:00~25/10/2022 13:00
During the event, players will be ranked based on [Accumulated Total Win]. LV 0~3:the top 200 players will be rewarded. LV 4~5:the top 100 players will be rewarded.
The event rewards are the item cards, use the item card to enter the Free Game. The game will be selected at random by the system, please go to the corresponding game to use!
Log in to the event specified game and the system will allocate players to the specific competition based on their LV levels.
27/09-25/10:Golden Empire、Fortune Gems、Super Ace、Bone Fortune、Mayan Empire、Gold Rush score multiply 3x during specific periods! Win and score, easy to earn High-value rewards.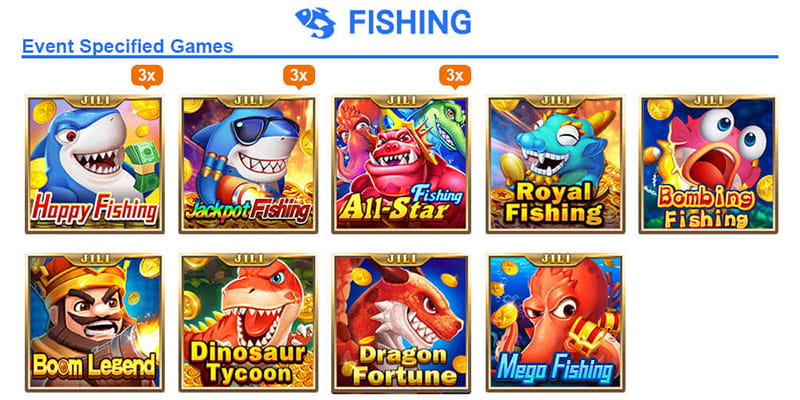 Jili Glory October Event Terms and conditions
System announced even time shall take precedence.
Item cards do not guarantee rewards, and is time-limited, please click on the to use them.
Players can participate in this event as long as they have played "Event Specified Games" during the event period, and satisfies the event criteria, no extra application required.
The rankings are updated every 5 minutes. If ranked players have the same Total Win, the one who "Bet Early" will be ranked ahead.
Event reward will be automatically sent to the player's backpack within 12 hours after the event is over.
Under special circumstances, the Casino reserves the right to modify, change or suspend this event.
The Casino reserves the right to the final interpretation on any objections and issues arise from this event, for any questions, please contact the Casino's online customer service.
Changes made during the event that affect the competition tier of the player will be reflected in the next event.
The previous sign up free ₱100 + registration bonus ₱88 casino activity has ended, but in order to continue to take care of the majority of EsballPH Halowin loyal players.
Now! EsballPH Halowin are once again launching the Register Free ₱100 Sign Up Bonus Sharing FB monthly FREE ₱38 Casino Promotion.
You can also click to enter the Online Casino Bonus & Promo introduction, which provides more diverse casino bonuses.
Hot Events