In this FIFA Predictions series, we're assessing the chances of the favorites ahead of World Cup 2022 in Qatar. To begin with, we're focusing on the holders, France. In this article, we'll cover everything you need to know, from the head coach and his preferred style of play to the stars to look out for - along with any potential banana skins the champions will face in the tournament.
FIFA 22 Predictions: Can France Win The World Cup Again
Les Bleus have an enviable combination of explosive young talent and experienced winners in their squad. You only have to look at the players they've left out of the last two major tournaments to understand the strength they have in depth. But will that be enough to secure back-to-back trophy wins?
The Manager: Didier Deschamps
One of only three individuals to win the World Cup as both a player and a manager (along with Franz Beckenbauer of West Germany and Mario Zagallo of Brazil), Deschamps has more experience in lifting this trophy than anyone else involved in the competition.
In his first World Cup as manager (2014), the former Juventus and Chelsea player guided Les Bleus to the quarter-finals. Four years later, his side defeated all comers in Russia. They followed that up by winning the UEFA Nations League in 2021.
Often seen as a no-nonsense manager, Deschamps clearly has a knack for getting the most out of his players - which is no mean feat given some of the egos he has to deal with. In the past, he's not been afraid to ruffle feathers; he exiled Karim Benzema for years to maintain squad harmony. One of his main challenges could be retaining that harmony now the Real Madrid striker has been brought back into the camp.
World Cup France Style of Play
In recent games, Deschamps has alternated between 4-2-3-1 and 3-4-1-2 and he certainly has the manpower at his disposal to switch between formations to keep opponents guessing.
One constant will undoubtedly be the inclusion of both Kylian Mbappe and Karim Benzema in the forward positions, with Mbappe either a partner for Benzema in a front two or in the role of wide attacker, with the Real Madrid star leading the line. Antoine Griezmann is likely to play in the No10 role, while the form of RB Leipzig's Christopher Nkunku makes him hard to ignore as another forward option - the pacy 24-year-old scored an impressive 20 goals and made 13 assists in 34 Bundesliga appearances last season.
Midfield is another area where Les Bleus have an embarrassment of riches. Chelsea's Ngolo Kante, Paul Pogba (now of Juventus), Real Madrid's big-money summer signing Aurelien Tchouameni and his teammate Eduardo Camavinga, Marseille's Matteo Guendouzi, Juve's Adrien Rabiot and Boubacar Kamara of Aston Villa will all compete for starts. Out wide they have Kingsley Coman and Moussa Diaby as options.
Then at the back, you can take your pick from Presnel Kimpembe of PSG, Liverpool's Ibrahima Konate, Jules Kounde, now with Barcelona, the experienced Rafael Varane, and Arsenal youngster William Saliba.
In fact, the only player who can be sure of a start is the goalkeeper and captain Hugo Lloris, although his understudy Mike Maignan has won back-to-back domestic titles with Lille and AC Milan.
What's certain is that there will be pace and quality throughout the team. Regardless of who makes the starting XI, France will pose the sternest of tests to any of the top nations in the tournament.
World Cup France Recent Form
The best word to sum up Les Bleus' recent form is 'patchy'. They failed to win any of their four Nations League games in June - although the timing of those games wasn't ideal; most players arrived at camp having completed 40-50 games during a long season with their clubs and, it's fair to say, didn't have the appetite for a tournament that's still new and lacks prestige.
As you'd expect France completely dominated their World Cup Qualifying Group with an undefeated record of 5 wins and 3 draws. They conceded just three goals during the entire campaign.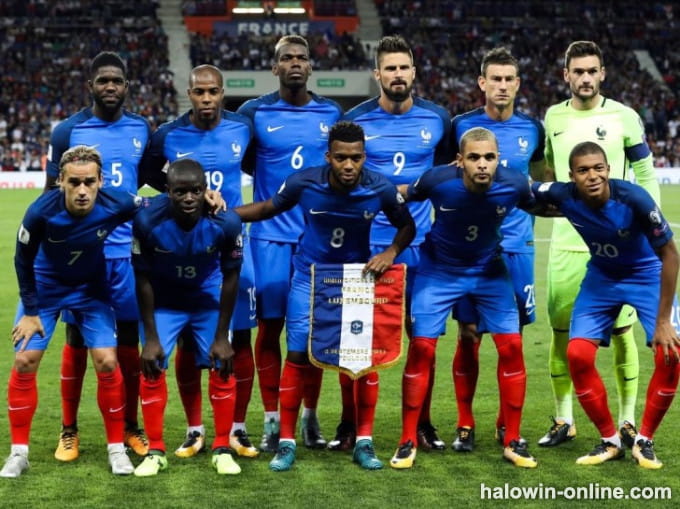 World Cup France Opponents
On paper, Deschamps' men should have no problem making it through World Cup Group D. They'll be favorites to start with a win against Australia and end on a high against Tunisia. Their toughest opponents will undoubtedly be Denmark, who inflicted a Nations League defeat on Les Bleus in June.
Finishing second would lead to a meeting with the winners of Group C in the knockout rounds - that looks likely to be Lionel Messi's Argentina - so it's important France avoid any slip-ups.
World Cup France Star Player: Kylian Mbappe
In a squad packed full of star quality, there's one man who stands head and shoulders above his teammates: Kylian Mbappe.
In Russia 2018, the then 19-year-old produced some mesmerizing performances.
He gave Argentina's defenders the run around in the round of 16 (they're probably still having nightmares about him) and scored a memorable goal - his fourth of the tournament - in the 4-2 victory over Croatia in the Final. He capped it all by winning the FIFA Young Player award.
The worrying thing for defenders is that this tournament, it's likely he's going to be even better. In 2021-22 he scored 28 goals and provided 19 assists for PSG and won Ligue 1 Player of the Season - which is no mean feat, given he plays alongside Lionel Messi and Neymar. There's every chance he could lift the World Cup and the Golden Boot this year.
World Cup France Breakthrough star: Aurelien Tchouameni
It looks to be a big season for Aurelien Tchouameni, who moved to Real Madrid for €80 million this summer. The former Monaco midfielder will have plenty of competition for a starting place at the Bernabeu - he competes against Luka Modric, Toni Kroos, and his countryman Eduardo Camavinga, another potential breakthrough star for Les Bleus in 2022. But if Tchouameni can force his way into Real's first team regularly (and there's no reason why he shouldn't) he will be a shoo-in to feature heavily at the World Cup. And he has the potential to dominate games with his combative, all-action style.
Read More About Other Potential World Cup Winners
Top FIFA Online Betting Site in the Philippines: Halowin Bet
If you want to make real money from FIFA betting, join Halowin Bet, one of the most reliable online FIFA betting sites in the Philippines.On the Halowin Bet, you can find a variety of sports betting. We select only legit and reliable FIFA online betting sites that are 100% sure of their honesty and safety, what's more, you can bet on sports weekly to win bonuses now!
Each FIFA bet has its odds, and profit will vary too. Please always remember: Higher odds come with higher risk. Go forward with the Halowin Bet in the Philippines to win ₱1100!