The most Complete FIFA 2022 World Cup Match Schedule and Venue Introduction
2022/08/05
Play Now
India Bonus
November 21, 2022 – Can you tell anything special about this day? If you are a football fan, this date means everything as it marks the start of the FIFA 2022 World Cup games. Qatar has the chance to host the event this time, which is just around the corner. The event will take place in eight stadiums spread across Qatar's five cities of Lusall, Al Khor, Al Rayyan, Al Wakrah, and Doha. Let's take a look at the 2022 FIFA World Cup schedule and FIFA 2022 World Cup venue introduction.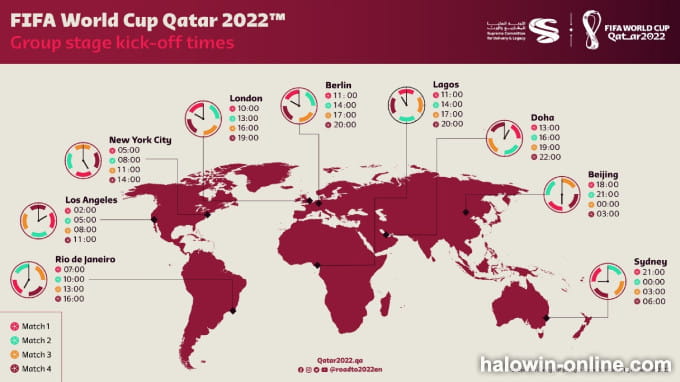 2022 FIFA World Cup Format
In keeping with recent editions, the FIFA 2022 World Cup will feature a 32-team group stage that reduces the field to 16 teams; only the top two teams from each of the eight groups advance. These 16 group-stage teams move on to the single-game knockout stages, which include the Round of 16, quarterfinals, semifinals, and final. In these matches, the victor advances, and the loser is eliminated. Every knockout round match must have a winner on the day, and if necessary, extra time and penalty kicks will be used to decide the winner.
When will the FIFA 2022 World Cup matches start in Qatar
The FIFA 2022 World Cup will kick off in Qatar on the 21st of November 2022. The first game will be hosted by Al Thumama stadium, in which the Netherlands will be up against Senegal followed by the first game of hosts against Ecuador. With their Group B match against Iran set for just eight days after the Premier League wraps up, England will also play on an opening day. On Tuesday, November 29, Wales will take on England in Group B after advancing via the play-offs. The final will be played on Sunday, December 18, a week before Christmas, at the Lusail Stadium in Doha.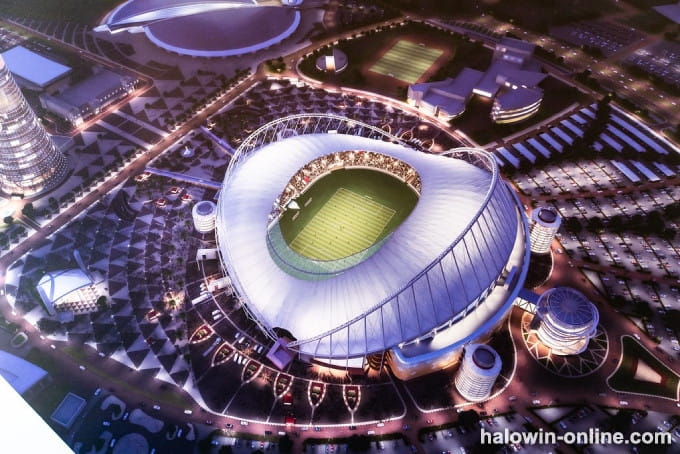 FIFA 2022 World Cup Venues
The 2022 FIFA World Cup would not only be the first to take place in the Arab, but it will also be the most condensed. The spectators would be able to see multiple matches each day. Each stadium, training facility, and fan zone has solar-powered cooling technology to maintain a constant 27C temperature during the humid summer months. All stadiums are going to be eco-friendly with controllable temperatures. Following stadiums will host the exciting games of the FIFA 2022 World Cup.
Al-Rayyan Stadium

Which is just outside of Doha in Al Rayyan, will be expanded to accommodate 40,000 spectators in time for the 2022 FIFA World Cup using modular components forming an upper tier. Through its "stunning undulating façade," the stadium reflects Qatari culture. After the competition, it will be reduced to almost 20,000 seats as the remaining ones will be donated to international football development initiatives.

Al Bayt Stadium

This stadium, built by Aspire Zone Foundation, has room for up to 60,000 spectators. It is distinctive due to the large tent structure that covers the entire stadium and bears the name Bayt al Sha'ar, which refers to the traditional tents used by nomadic tribes in Qatar. The stadium's architecture honors Qatar's past while serving as an example of sustainable development.

Khalifa International Stadium

Originally constructed in 1976, the revamped Khalifa International Stadium was renovated in 2005 to serve as the focal point of the 2006 Asian Games. The stadium features sweeping arcs and partially covered stands. The 3-2-1 Qatar Olympic and Sports Museum are connected to the stadium by a walkway, which adds to the understanding of how this location values its past while preparing for an exciting future.

Lusail Stadium

The new Lusail Stadium is one of the main stadiums for the World Cup in Qatar and will host the closing ceremony for the 2022 competition. It is situated in the Al Daayen neighborhood, which is a part of the developed Lusail City. Fans will be able to travel to games via improved roads, the Doha Metro, or the Lusail Light Rail Transit system. While there, they can spend time in various parks.

Al Thumama Stadium

Due to its inspiration from the traditional qahfiya (the cap worn underneath the Ghutra and Egal) in the Arab world, Al Thumama Stadium is a distinctive example of Arab architectural iconography. Because it is a feature of Arab culture throughout the Arab world, this design was chosen. As a result, it conveys the richness of Arab civilization and the interconnected cultural and historical legacy of the Arab nations.
Complete FIFA 2022 World Cup Match Schedule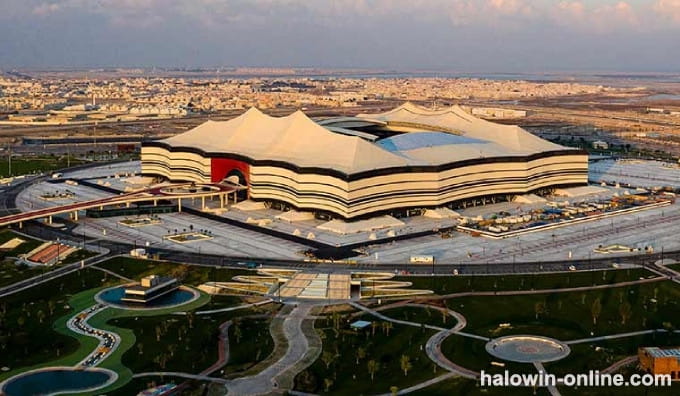 Monday, Nov. 21
Senegal VS. the Netherlands
England VS. Iran
Qatar VS. Ecuador
United States VS. Wales
Tuesday, Nov. 22
Argentina VS. Saudi Arabia
Denmark VS. Tunisia
Mexico VS. Poland
France VS. Australia
Wednesday, Nov. 23
Morocco VS. Croatia
Germany VS. Japan
Spain VS. Costa Rica
Belgium VS. Canada
Thursday, Nov. 24
Switzerland VS. Cameroon
Uruguay VS. South Korea
Portugal VS. Ghana
Brazil VS. Serbia
Friday, Nov. 25
Wales VS. Iran
Qatar VS. Senegal
Netherlands VS. Ecuador
England VS. the United States
Saturday, Nov. 26
Tunisia VS. Australia
Poland VS. Saudi Arabia
France VS. Denmark
Argentina VS. Mexico
Sunday, Nov. 27
Japan VS. Costa Rica
Belgium VS. Morocco
Croatia VS. Canada
Spain VS. Germany
Wednesday, Nov. 30
Tunisia VS. France
Australia VS. Denmark
Poland VS. Argentina
Saudi Arabia VS. Mexico
Thursday, Dec. 1
Croatia VS. Belgium
Canada VS. Morocco
Japan VS. Spain
Costa Rica VS. Germany
Friday, Dec. 2
South Korea VS. Portugal
Ghana VS. Uruguay
Cameroon VS. Brazil
Serbia VS. Switzerland
Monday, Dec. 5
Winners of Group E vs. Runners of Group F
Winners of Group G vs. Runners of Group H
Tuesday, Dec. 6
Winners of Group F vs. Runners of Group E
Winners of Group H vs Runners of Group G 2
Friday, Dec. 9
FIFA Quarterfinal 1
FIFA Quarterfinal 2
Saturday, Dec. 10
FIFA Quarterfinal 3
FIFA Quarterfinal 4
Tuesday, Dec. 13
Wednesday, Dec. 14
Saturday, Dec. 18
Conclusion
No matter where you are, get yourself ready for the most exciting event. The fever is getting real with each passing day, and the excitement of football fans is touching the sky. Yes, we all have our favorites, but let's hope for thrilling games ahead.
Read More hot topics About FIFA
Top FIFA Online Betting Site in the Philippines: Halowin Bet
If you want to make real money from FIFA betting, join Halowin Bet, one of the most reliable online FIFA betting sites in the Philippines.On the Halowin Bet, you can find a variety of sports betting. We select only legit and reliable FIFA online betting sites that are 100% sure of their honesty and safety, what's more, you can bet on sports weekly to win bonuses now!
Each FIFA bet has its odds, and profit will vary too. Please always remember: Higher odds come with higher risk. Go forward with the Halowin Bet in the Philippines to win ₱1100!