On Sunday, December 18, Bay Area Dragons will try to reach the finals of the ongoing 2022 PBA Commissioner's Cup Finals as they close the series against San Miguel Beermen, the most winningest team in PBA History.
Click to Register - ₱100 Sign Up Free Bonus
At the game, one of their best-of-five semifinals, the guest team Bay Area Dragons, barely beat the San Miguel Beermen, 103-102. However, it doesn't matter much in the playoffs if a team beat their enemies with one point or 100 points since a win is still a win.
When the San Miguel Beermen faced the Bay Are Dragons, which are composed of mostly Chinese and Hong Kong nationals, they suffered a 26-point beating, 113-87, behind Andrew Nicholson's 39 big points, 12 rebounds, and two assists.
San Miguel Beermen's then-import, Devon Stone, was only limited to 11 points as they were led by Jaymar Perez with 19 points, eight rebounds, and six assists.
Take a look at the statistics of each team in this article as EsballPH HaloWin Bet try to predict how Bay Area Dragons will close their best-of-three series against San Miguel Beermen.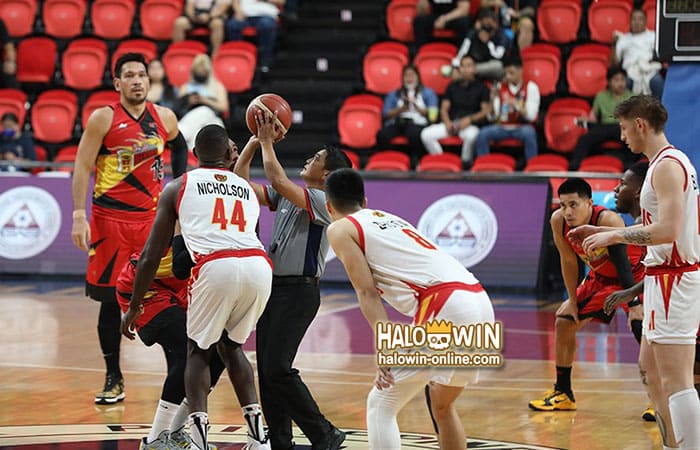 Bay Area Dragons vs San Miguel Beermen Pre-match Recap
At the end of the elimination round, Bay Area Dragons topped the standing with a 10-2 win-loss record, tied with Magnolia Chicken Timplado Hotshots. However, since they beat the Magnolia Hotshots in their elimination game, they were placed at the top spot but both teams have the twice-to-beat advantage.
In the quarterfinals, the Bay Area Dragons faced the eight-seeded Rain or Shine Elasto Painters which they won by 30 points, 126-96. Although Rain or Shine Elastor Painters head coach Yeng Guiao cried foul as he pleaded with the PBA to not give any favorable rules to the guest team, the Bay Area Dragons did not lose its momentum in the playoffs.
Meanwhile, San Miguel Beermen only placed fifth on the leaderboard, losing to teams Blackwater Bossing, Bay Area Dragons, Converge FiberXers, Barangay Ginebra San Miguel, and Magnolia Hotshots.
In the quarterfinals, the San Miguel Beermen disposed of Converge FiberXers and got their revenge in the best-of-three series. In the first game, San Miguel Beermen showed their dominance against the Converge FiberXers, 114-96, behind CJ Perez's 25 points and Jun Mar Fajardo's 16 rebounds.
In the second game, Beermen continued their domination of the Converge FiberXers, 120-107, this time behind Terence Romeo's 22 points, and Jun Mar Fajardo's 18 rebounds.
At the 2022-2023 PBA Commissioner's Cup, the Bay Area Dragons have beaten the San Miguel Beermen in the first game, 103-102. The San Miguel Beermen started hot, leading as much as 16 points, but Bay Area Dragons managed to get their composure in the latter part of the match, beating them by a hairline.
In the last minute of the match, Jun Mar Fajardo scored a 2-point floating jump shot to lead their lead by three, 102-99. However, Bay Area Dragons players Hayden Blankley and Kobey Lam managed to score two consecutive two-pointers to snatch the game in their favor, 103-102.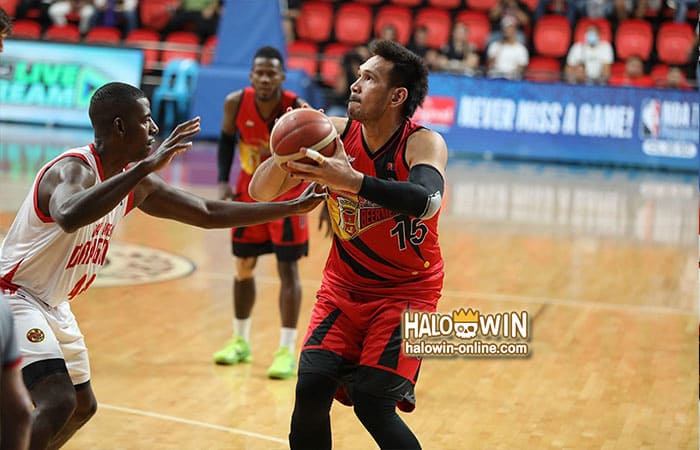 Bay Area vs San Miguel Offensive Analysis
At game one of the best-of-five semifinals series, the Bay Area Dragons showed their dominance in the statistics of the match. The Bay Area Dragons had a huge 52% field goal efficiency, against San Miguel Beermen's 48% on a 39/81 shooting. In terms of two-point field goals made, the Bay Area Dragons had 66% efficiency, compared to San Miguel Beermen's 50%.
The story of the night for the Bay Area Dragons was their points in the paint, 58, compared to only 44 of San Miguel Beermen. The Bay Area Dragons also scored 16 points from turnovers against San Miguel Beermen's 9 points.
Aside from the points in the paint, Bay Area Dragon also made 15 fast-break points, compared to San Miguel Beermen's barely two points.
For San Miguel Beermen, they dominated the three-point territory with 42% efficiency on 26 attempts compared to Bay Area Dragons'30% on 9/30 shooting. San Miguel Beermen also made 13 second-chance points, four more than Bay Area Dragons'nine.
The story of the night for the San Miguel Beermen was their bench, scoring 34 big points compared to Bay Area Dragons'18. Terrence Romeo proved to be the spark off the bench, finishing the match with 21 points and four rebounds in a losing effort.
San Miguel Beermen also scored 13 points from the free throw line, compared to Bay Area Dragons'12 points.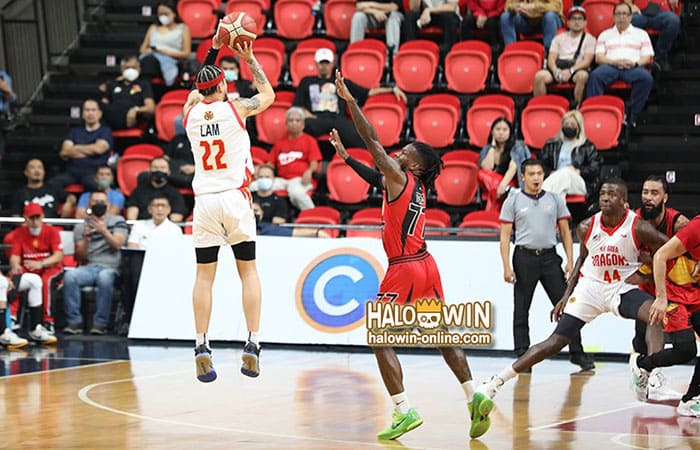 Bay Area vs San Miguel Defense Analysis
Although they are smaller compared to Bay Area Dragons, the San Miguel Beermen dominated the bucket with 44 rebounds against Bay Area Dragons'39. The San Miguel Beermen also had 24 assists, three more from Bay Area Dragons'21.
However, the Bay Area Dragons capitalized on the error-prone San Miguel Beermen, which recorded 16 turnovers. In comparison, the Bay Area Dragons only gave the ball away 11 times. The Filipino team also gave up 18 personal fouls, two more than Bay Area Dragons'16.
If the San Miguel Beermen want to win, they need to capitalize on their big man, Jun Mar Fajardo, which they had been doing for the longest time. In game one, Jun Mar was only limited to eight rebounds, compared to Andrew Nicholson's 15 big rebounds.
The depth of their bench could also be a big help for the San Miguel Beermen since they have a reliable shooter in Terrence Romero who already made a name for himself as someone who can carry the team from the bench.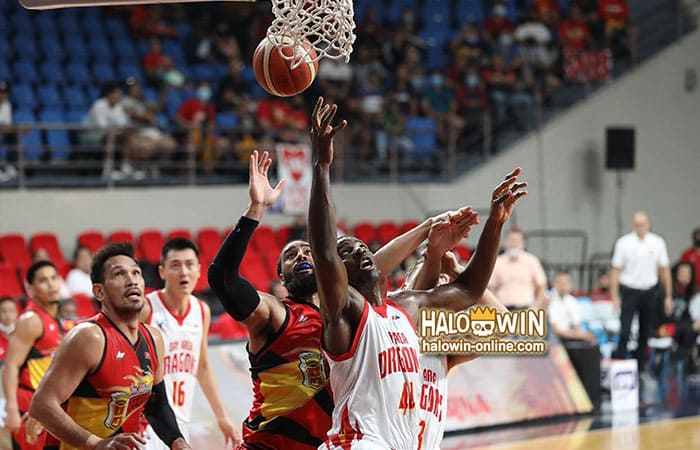 Game 3 PBA Predictions between Bay Area and San Miguel
The San Miguel Beerman has managed to continue their winning tradition, proving that they have what it takes to extend the number of championships behind its belt. However, such a great team like Bay Area Dragons would be proved to be too much for the local team.
If San Miguel Beerman wants to extend the series, they should make an extra effort in limited the enemies below the bucket. They should also be getting more rebounds and making more field goals to make Bay Area Dragons crumble.
Top PBA Online Betting Site in the Philippines: EsballPH HaloWin Bet
Join EsballPH HaloWin Bet for PBA real money online betting, most reliable and legit Philippines online PBA betting site. EsballPH HaloWin Bet offers variety sports betting options and bonus, you can bet on sports every week and win huge bonuses together!
Each PBA bet has its odds, please be aware that higher odds comes with higer risk. Click on EsballPH HaloWin Bet Philipines Online Betting site to win big bonus.
The previous sign up free ₱100 + registration bonus ₱88 casino activity has ended, but in order to continue to take care of the majority of EsballPH Halowin loyal players.
Now! EsballPH Halowin are once again launching the Register Free ₱100 Sign Up Bonus Sharing FB monthly FREE ₱38 Casino Promotion.
You can also click to enter the Online Casino Bonus & Promo introduction, which provides more diverse casino bonuses.