On February 11, We had a boxing match between Filipino Boxer Eumir Marcial vs. Ricardo Villalba in San Antonio, Texas. Marcial, who is 4-0 with 2 KO wins, won the middleweight contest quite easily.
The fight was part of the Showtime Boxing Countdown, which was a prelude to the main card featuring Rey Vargas vs O'Shaquie Foster for the vacant WBC super featherweight title.
Marcial knocked down his opponent from Argentina in the first round with a left body shot and then knocked him out with a big right in the second round. The fight was scheduled to last eight rounds and ended just 48 seconds into the second round. Filipino's endurance was hardly tested following the quick end to the match.
Eumir Marcial easily won the match without breaking a sweat, remaining undefeated in his career, and improved to a perfect 4-0 record, including 2 KOs.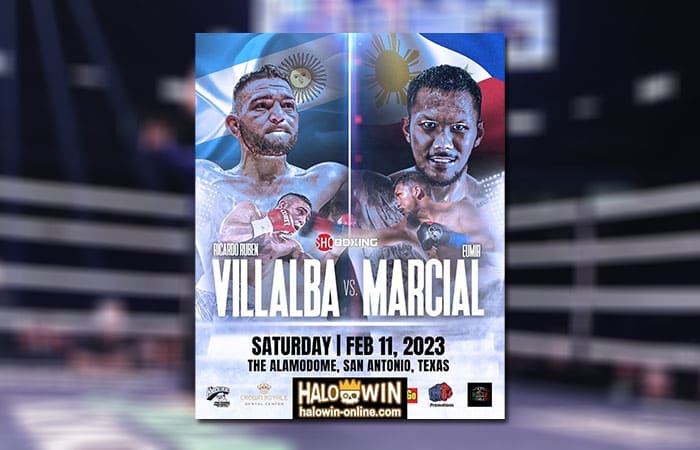 Eumir Marcial's Victory Analysis
In 2020, Eumir Marcial received big offers from boxing promoters, including MP Promotions of Manny Pacquiao. He wanted to compete in the 2020 Summer Olympics, so the Association of Boxing Alliances in the Philippines appealed to the promoters to let him. But Marcial still turned pro and signed with MP Promotions, while promising to represent the Philippines in amateur competitions.
Eumir Marcial's first professional fight was against Andrew Whitfield at Microsoft Theater in Los Angeles on December 16, 2020, after training under Freddie Roach for two months. He has played a total of four matches in his professional career, and he stood tall in all of them. He won 2 bouts by knocking out the opponent, and the other two were won by decision.
He prepared very well for the Eumir Marcial Vs. Ricardo Villalba bout. Eumir Marcial uses a mix of old and new fighting techniques. He likes to attack from far away and keeps his guard low. Marcial has a natural gift of powerful right hand and a rock solid left hook. That is why he is so good at throwing combinations.
During the fight, he keeps his right hand a little higher than his left hand to punch effectively and stay balanced. Marcial moves quickly in and out of range, which helps him control the fight. He has good timing and can hit his opponent accurately, especially when they make a mistake.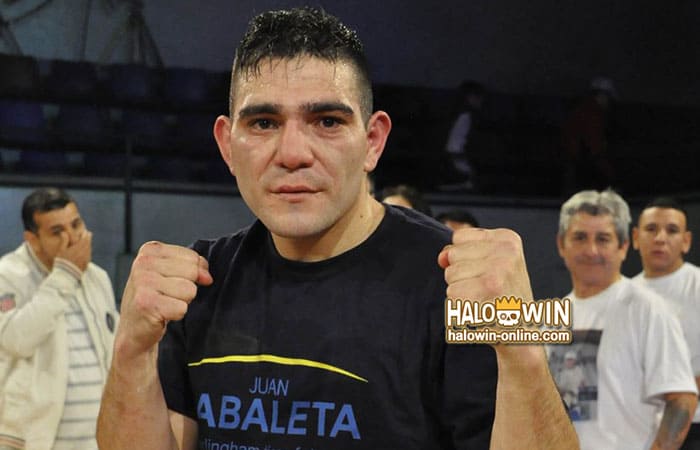 Ricardo Villalba's Defeat Analysis
Ricardo Ruben Villalba is a professional boxer who belongs to Argentina. He has a phenomenal record of 20-8-1, including 8 KO wins.
He recently lost the Eumir Marcial vs. Ricardo Villalba match in the USA. He has taken part in various fights in several countries like Argentina, Panama, and the United States. Villalba has faced many defeats in his career, still his record is quite decent.
His latest fight against Eumir Marcial in San Antonio, Texas, clearly showcased his inabilities. In the match, Marcial totally dominated the fight and knocked Villalba out in the second round of the match. Villalba looked very lethargic and it looked like he lacked the speed and agility to keep up with Marcial's fast pace and powerful punches.
When we talk about his fighting style and stance, Villalba is more of a traditional boxer. He prefers to have high guard and likes to keep his hands close to his face to safeguard himself. He also likes to move around in the ring in a traditional way. Because he majorly relies on his feet movement and dodging skills. Villalba's fighting style is something that is not up to that level where it should be.
Villalba has had some success in his career, his recent Eumir Marcial Vs. Ricardo Villalba's match showed that he still has some weaknesses that need to be addressed if he wants to compete at a higher level. His traditional fighting style may be effective against some opponents, but against more modern and versatile boxers, he may need to adapt and improve his skills. Nonetheless, his record and experience in the ring show that he is a tough and resilient fighter who can take on any challenge that comes his way.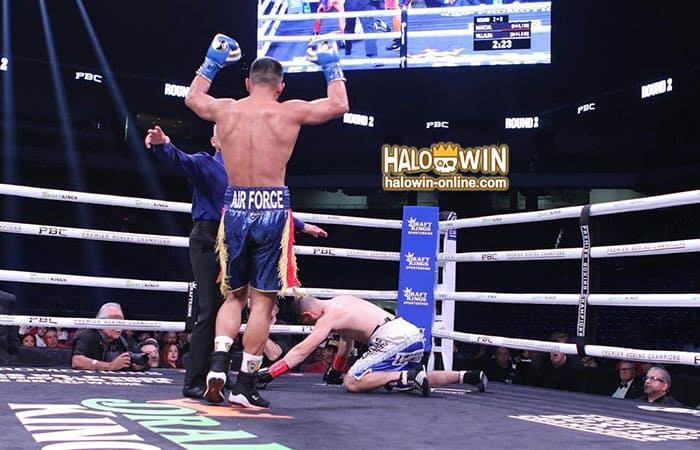 Comparison of Eumir Marcial and Ricardo Villalba
Eumir Marcial
vs.
Ricardo Villalba
27
Age
33
5 Feet 8 Inches (173cm)
Height
5 feet 9 Inches (175cm)
73 Kg (161.4 lbs)
Weight
73.4 Kg (162 lbs)
Southpaw
Stance
Orthodox
4-0-0
Boxing Record
20-8-1
16
Rounds
178
2
KO's
8
With Steven Pichardo
On October 8, 2022
At Dignity Health Sports Park, Carson
Win by Decision
Last Fight
Micky Scala
On December 17, 2022 At The Cosmopolitan of Las Vegas
Loss by Decision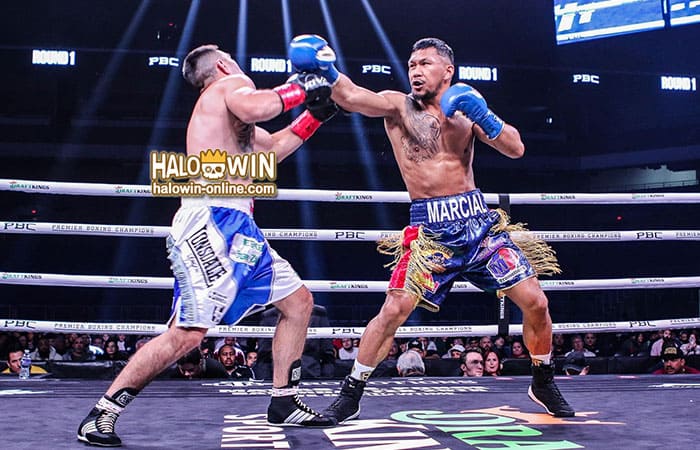 Eumir Marcial Vs. Ricardo Villalba Match Review
Filipino boxer Eumir Marcial defeated Argentine Ricardo Ruben Villalba in a middleweight bout at the Alamodome in San Antonio, Texas.
Marcial, who won a bronze medal at the 2020 Tokyo Olympics, knocked Villalba down with a left body shot in the first round and twice in the second round. The referee stopped the fight with 48 seconds remaining in the round.
This was Marcial's fourth straight victory and his second knockout in the professional ranks. Marcial had a successful amateur career, winning silver in the 2019 World Championships and four gold medals in the Southeast Asian Games.
Marcial, who hails from Lunzuran, Zamboanga City, knocked Villalba down again with a right at the top of the head before finishing him off with a right hook. People wiated for the Eumir Marcial vs. Ricardo Villalba matches to see who outclassed the other boxer in the ring.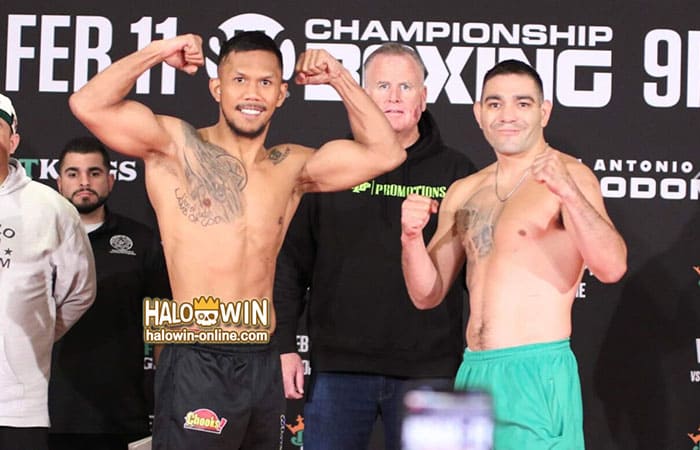 Eumir Marcial's Comments on the Match
Marcial posted his victory images on Instagram after winning the fight. He captioned the post, "Glory to God! We are still undefeated! Humbled to have won the fight against a tough veteran, Argentinian Ricardo Ruben Villalba via KO after the 2nd round. All my training has paid off and my hard work bore fruit of our labor.
He further wrote this in his Instagram post, "Like I said during interviews, I have learned a lot in my last three professional fights. I am most grateful to have had a very productive training with my camp and I am just happy to have shown the fans what I've improved on and prepared for over the last few months.
Eumir Marcial Vs. Ricardo Villalba Full Video
Eumir Marcial's FAQs
Who won the fight between Marcial and Villalba?
Eumir Marcial won the Eumir Marcial Vs. Ricardo Villalba's bout after completely dominating the game. He did not let Villalba get stable and gave a left-body shot in the first round. After that, in the second round, he gave another combination and body shot to the Argentinian, who could not withstand the shot and was knocked out.
What is the boxing record of Marcial?
Marcial is currently unbeaten. His boxing record stands at 4-0-0. He knocked out his opponent two times in these 4 bouts. He is considered the next boxing superstar of the Philippines. He made his professional debut in 2020.
What is the Boxing Record of Ricardo Villalba?
Ricardo Villalba has a boxing record of 20-8-1. He has been knocked out many times by his opponents. Despite many losses in his career, he is still one of the toughest opponents to face in the boxing ring.
The previous sign up free ₱100 + registration bonus ₱88 casino activity has ended, but in order to continue to take care of the majority of EsballPH Halowin loyal players.
Now! EsballPH Halowin are once again launching the Register Free ₱100 Sign Up Bonus Sharing FB monthly FREE ₱38 Casino Promotion.
You can also click to enter the Online Casino Bonus & Promo introduction, which provides more diverse casino bonuses.